It's Official: We've Found the Higgs Boson. But Which One?
on
March 16, 2013
I found this story over on Scientific American and found it interesting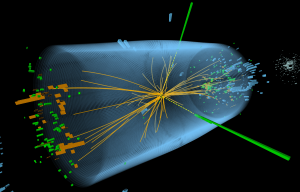 Higgs to two-photon candidate event as seen by CMS in May 2012
When last we checked in on the hunt for the Higgs, physicists weren't yet ready to call the deal done. They were only willing to say that they had discovered a new particle—some sort of boson—and that this new boson was "Higgs-like." Their reticence hinged on the measurement of the new particle's spin, a fundamental quality that, for bosons, must take an integer value such as 0, 1 or 2. Both in July, whenthe proto-Higgs was first announced, and in November, when scientists released additional data analysis, they didn't have enough data to definitively say that the boson had a spin of zero, which a Higgs must have.
That uncertainty has now melted away. This week, physicists gathered in Moriond, Italy announced that additional data from the Large Hadron Collider's 2012 data run now conclusively show that the new boson has a spin of zero, and is thus a Higgs boson