Kepler Planet-Hunting Mission in Jeopardy: Universe Today
on
May 17, 2013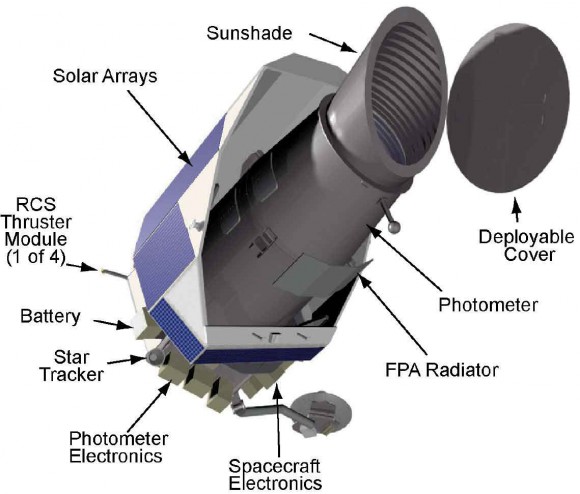 A diagram of the Kepler space telescope. Credit: NASA
NASA's Kepler telescope has lost its ability to precisely point toward stars, putting its exoplanet search in jeopardy. One of the reaction wheels –devices which enable the spacecraft to aim in different directions without firing thrusters – has failed. This is of grave concern because last year reaction wheel #2 failed, and now #4 has failed. Kepler scientists say the spacecraft needs at least three reaction wheels to be able to point precisely enough to hunt for planets orbiting distant stars.
"We need three wheels in service to give us the pointing precision to enable us to find planets," said Bill Borucki, Kepler principal investigator, during a press briefing today. "Without three wheels it is unclear whether we could continue to do anything on that order."
But the Kepler team said there are still possibilities of keeping the spacecraft in working order, or perhaps even finding other opportunities for different science for Kepler, something that doesn't require such precise pointing abilities.
via .Universe Today-Kepler Planet-Hunting Mission in Jeopardy.