NASA – NASA's Asteroid Sample Return Mission Moves into Development
on
May 19, 2013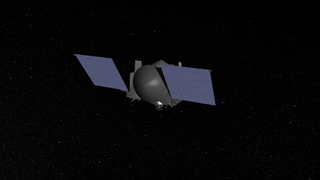 Credit: NASA's Goddard Space Flight Center
NASA's first mission to sample an asteroid is moving ahead into development and testing in preparation for its launch in 2016.
The Origins-Spectral Interpretation Resource Identification Security Regolith Explorer (OSIRIS-REx) passed a confirmation review Wednesday called Key Decision Point (KDP)-C. NASA officials reviewed a series of detailed project assessments and authorized the spacecraft's continuation into the development phase.
OSIRIS-REx will rendezvous with the asteroid Bennu in 2018 and return a sample of it to Earth in 2023.
"Successfully passing KDP-C is a major milestone for the project," said Mike Donnelly, OSIRIS-REx project manager at NASA's Goddard Space Flight Center in Greenbelt, Md. "This means NASA believes we have an executable plan to return a sample from Bennu. It now falls on the project and its development team members to execute that plan."
Bennu could hold clues to the origin of the solar system. OSIRIS-REx will map the asteroid's global properties, measure non-gravitational forces and provide observations that can be compared with data obtained by telescope observations from Earth. OSIRIS-REx will collect a minimum of 2 ounces (60 grams) of surface material.
via NASA – NASA's Asteroid Sample Return Mission Moves into Development.