Resources
Monthly Observing Lists
These observing lists include double stars and objects from the Messier list, the Caldwell list, and the Royal Astronomical Society of Canada list. Each list shows objects that transit around 10pm during that month. At 8pm, you can use the previous month's list. At midnight, you can use the next month's list.
Dark Sky Map For The St. Louis Metro Area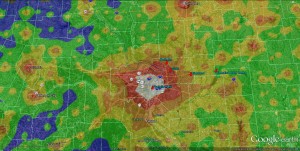 Recommended Stores To Buy Telescopes and Equipment
Just for kids
The RBAC Kids Page has links and fun stuff for kids
Comets & Meteor Showers
Okay, this one's in a class by itself. Cometography is one of the oldest sites on the World Wide Web devoted to the subject, researched and written by Gary Kronk, a leading authority on historical observations of these ephemeral denizens of the solar system. Here you'll find current observing data, historical overviews, and more.
Clear Sky Charts
Predicts cloudiness and general transparency for the next 48 hours.
Observing data
US Naval Observatory's Sun and Moon Data for one day Gives rise and set times for the Sun and Moon, as well as phase information for the Moon and time of civil twilight.
RBAC's very own aurora page offering tools for helping to predict an aurora in our area.
Skymaps.com makes available for free* each month The Evening Sky Map — a 2-page monthly guide to the night skies of the world — northern and southern hemispheres, and the equatorial regions. Each issue contains a detailed sky map, a monthly sky calendar, and a descriptive list of the best objects to see with binoculars, a telescope, or using just your eyes.
Periodicals
Astronomy Offers information grouped in "science" and "hobby" categories to match your interest level.
Sky & Telescope Science news, observing tips and customizable sky data.
Amateur Astronomy Activities, observing and telescope-making around the world.
Organizations
Astronomical League The world's largest federation of amateur astronomers.
American Association of Variable Star Observers Coordinates, collects, evaluates, analyzes, publishes, and archives variable star observations made largely by amateur astronomers, and makes these observations available to professional astronomers, researchers, and educators.
American Meteor Society Affiliates observe, monitor, collect data on, study, and report on meteors, meteor showers, meteoric fireballs, and related meteoric phenomena.
NASA Video Feeds A single page where you can pick from 4 NASA Video feeds.
NOAA is an agency that enriches life through science. Our reach goes from the surface of the sun to the depths of the ocean floor as we work to keep citizens informed of the changing environment around them.
Free Astronomy Software
Stellarium a free open source planetarium for your computer. It shows a realistic sky in 3D, just like what you see with the naked eye, binoculars or a telescope.
It is being used in planetarium projectors. Just set your coordinates and go.
Unimap is a free/opensource astronomy software which was mainly developed to do plate-solving (automated detection and sky catalog matching) for astrophotography
Cartes du Ciel This program enables you to draw sky charts, making use of the data in 16 catalogs of stars and nebulae. In addition the position of planets, asteroids and comets are shown.
Astrophotography Software
Registax is a free software for alignment/stacking/processing of images
DeepSkyStacker is a freeware for astrophotographers that simplifies all the pre-processing steps of deep sky pictures. Registering, Stacking, and Simple post-stacking processes to quickly view the final result. Saving the resulting image to a TIFF or FITS file (16 or 32 bit)
GIMP is an acronym for GNU Image Manipulation Program. It is a freely distributed program for such tasks as photo retouching, image composition and image authoring. It has many capabilities. It can be used as a simple paint program, an expert quality photo retouching program, an online batch processing system, a mass production image render, an image format converter, etc. GIMP is expandable and extensible. It is designed to be augmented with plug-ins and extensions to do just about anything. The advanced scripting interface allows everything from the simplest task to the most complex image manipulation procedures to be easily scripted. GIMP is written and developed under X11 on UNIX platforms. But basically the same code also runs on MS Windows and Mac OS X.
Miscellaneous
Watch live astronomy cams and resources This is a link that was recommended by some fans of the website. Thank you to Ms. Phillips' class for the suggestion.