Rough Red Planet Rocks Rip Rover Curiosity Wheels
on
December 28, 2013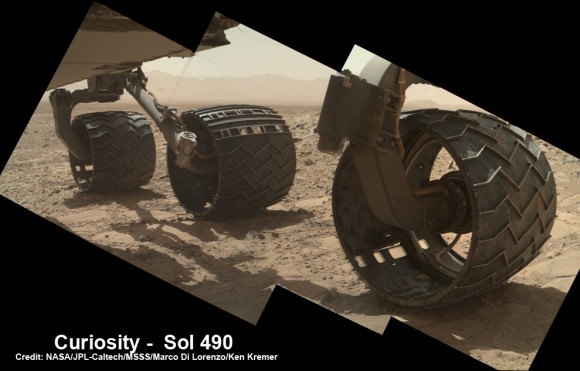 Photomosaic shows new holes and tears in several of rover Curiosity's six wheels caused by recent driving over sharp edged Martian rocks on the months long trek to Mount Sharp. Raw images taken by the MAHLI camera on Curiosity's arm on Dec. 22, 2013 (Sol 490) were assembled to show some recent damage to several of its six wheels – most noticeably the two here in middle and front. Credit: NASA / JPL / MSSS / Marco Di Lorenzo / Ken Kremer- kenkremer.com
Rough edged rocks on the Red Planet are clearly taking their toll on rover Curiosity's hi tech wheels as she speeds towards her ultimate goal – humongous Mount Sharp – in search of the ingredients necessary to sustain potential Martian microbes.
Several of the NASA rovers six big aluminum wheels have suffered some significant sized rips, tears and holes up to several centimeters wide – in addition to numerous dents – as she has picked up the driving pace across the rugged, rock filled Martian terrain this past fall and put over 4.5 kilometers (3 mi.) on the odometer to date.
It's rather easy to spot the wheel damage to the 1 ton behemoth by examining the mosaic imagery we have created – See above and below – from newly transmitted raw imagery and comparing that to older imagery taken at earlier points in the mission. Check our Sol 177 wheels mosaic below.