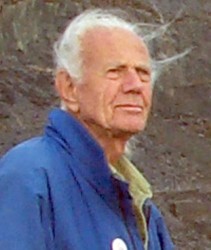 John Dobson, amateur astronomer and astronomy popularizer, died Jan. 14 at 98 in Burbank, Calif. Credit: Wikipedia
The cosmos lost a good soul Wednesday. John Dobson, famous as the creator of the simple, low-cost Dobsonian telescope, passed away on Jan. 15, 2014. His obituary appeared on the website of the Sidewalk Astronomers:
"It is with heavy hearts that we must report the passing of John Dobson. He died peacefully this morning, Wednesday, January 15th, in Burbank, California. He was 98 years old. He leaves behind a son, numerous close friends, and fans and admirers worldwide.
On March 8th, in honor of John, this year's ISAN (International Sidewalk Astronomy Night) will be dedicated to his memory. Amateur astronomers around the globe can join in and celebrate John's life and continue to carry the torch that he lit back in 1968 when he co-founded the San Francisco Sidewalk Astronomers."
via Universe Today: John Dobson, Inventor of the Popular Dobsonian Telescope, Dead at 98.